To date The Starfish Trust has gifted over £6,750,000 to help disabled persons to realise their potential and to have a better quality of life.

Major grants include core funding for six specialist hydrotherapy pools in south west UK for disabled children, a meningitis research laboratory at the University of Bristol, a £1,000,000 grant to assist in the development of a Bristol children's hospice, a technology centre for disabled students at the National Star College in Cheltenham and a $500,000 grant towards the development of TalkTablet, a speech software/hardware package now being used by 150,000 children and adults throughout the world who have difficulty communicating verbally as a result of cerebral palsy, autism and other speech restricting conditions.

Robert (Bob) Woodward OBE
Founder of CLIC (Cancer and Leukaemia in Childhood) now CLIC Sargent.

Trustees

Charles Dobson Mary Dobson
Julian Dobson Suzanne Dobson

The Starfish Story...
As the old man walked the beach at dawn, he noticed a young girl picking up starfish and putting them into the sea.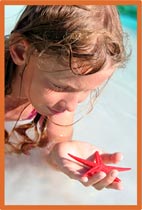 He asked her why she was doing this. Her answer was that the stranded starfish would die if left until the morning sun.
"But the beach goes on for miles and there are thousands of starfish," countered the old man. "How can your effort make any difference?" The young girl looked at the starfish in her hand and placed it safely into the waves.
"It makes a difference to this one," she said.
Click/touch here for a short history of The Starfish Trust